Are you too busy to go out and flirt? Do you feel alone? Maybe it's time to look for alternative ways to meet new people. Out every night or wait for someone to appear is not always enough. For those looking for love, or maybe something more casual, we have a list of applications dating for singles looking for a person with specific characteristics. Yes, even this can help your tablet .
Here's our selection:
OkCupid
OkCupid is like Match.com for people "particular". It is aimed at young, about twenty-something looking for one sleepless night, or thirty-something people who want to settle down once and for all. If you think you are a unique person with a feature that makes you stand out from the crowd, this app will help you find someone compatible with your lifestyle. From rockers to tattoo artists, anyone can find a partner by customizing search offering OkCupid. Even just in the application can enter your interests and let OkCupid searchs for you.
Name
OkCupid - social dating, meet new people
FREE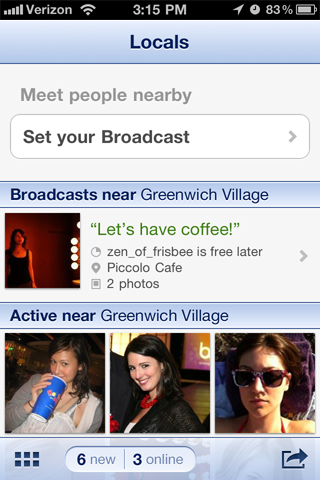 GothicMatch
By now you can guess the name of this application going. GothicMatch Gothic offers people the chance to find a soul mate. If you want to find someone who understands and shares your lifestyle this is your application. With GothicMatch you do a "wink" (wink) to someone and see who you have "winked" at you, send and receive emails from people interested, and chat live with people with similar tastes.
Christian Dating
This application is for people looking for more serious relationships. That is, if you want a one-night stand with this application does not try. If looking for a partner to share life with you, with the same religious beliefs, provided that you may be Christians, then with this application you can search through a long list of people who want to read the Bible with you on a Saturday night. That is, long-term serious relationships. With Christian Dating can send notifications to those people that interest you, send and receive email and chat live with other members. The application has a cost of 0.89 € to help the cause, but the dating service is one hundred percent free.
Grindr
This service is aimed at a gay, bisexual men or "curious". With over 4 million members worldwide, with Grindr be able to find the right man for you almost before you can complete your profile. It is easy to use and one hundred percent free. All you have to do is hang a picture and fill in your profile. Only with that I can connect with the kids you have nearby. Be careful with the photos you post, Grindr has a very strict policy regarding nudity or images deemed inappropriate. You can send a text message via the chat to be with the user you're interested.
And here we have selected applications for flirting. As you can see there is something for everyone. We hope you like them.
Share this article with your friends on Facebook, Google and Twitter with the buttons you'll find at the beginning of it. Thank you!
iPadizate , best blog on the Apple iPad.