In recent weeks there has been much talk about alternatives to WhatsApp. The application has been harshly criticized for its low development and its failures. Although currently still dominates the market WhatsApp instant messaging for mobile devices are emerging alternatives that could put the application in deep trouble. LINE may be the most ballots has to earn its place, but there are other interesting alternatives that we could take into account We review?
WhatsApp, the current King might be dethroned
No doubt that is the application WhatsApp IM most recognized by the public. Virtually any smartphone with mobile data rate (and some not), has the popular application.
It was the first, the first cross-platform application that has carved a niche in the hearts of millions of people and has failed to curb the use of SMS among users.
Against it must be said that those responsible have not been taken as seriously the issue of privacy and security communications in the same as you would expect, plus it is customary for the service fails occasionally (which can happen to any other application of this type if he popularized to WhatsApp levels).
LINE, the prince who wants to be king
Today, LINE is the application most ballots have to become the successor of WhatsApp. The application is gaining a lot of popularity in recent weeks and everyone is talking about it.
LINE has features that no other applications of this type has. From a wall to hang status updates the style FaceBook or Twitter, the ability to make VoIP calls to features that are giving a lot of talk (and incidentally NAVER big business for the company behind the application) and are the stickers, large emoticons you can send to our contacts, the application has a few and it is possible to have more (although you need to checkout).
The application has been born in Japan, but the company behind it is trying to grow and have in mind to open offices in different countries.
LINE course is a multiplatform application. It offers synchronization between multiple devices and also has an application for Mac and PC that can be used to track our conversations, although we started on an iPhone. Certainly a very interesting option that is slowly gaining popularity.
iMessage, Apple native option
iMessage is Apple's native option for this field. Their integration is much more transparent than the other options and do not need to install any additional application on your iPhone or iPad to function properly, as it is integrated into the application of the same application that manages SMS.
Usage is very easy, just have to access the messaging application and send a message through it. If the receiver has an iPhone or iPad and the option to receive the receive IMessages activated through this medium, for free (we'll know before sending the color of the interface, and that in the field of SMS or iMessage writing appears).
The downside of this application is that it only supports iPhone, iPad and Mac (only Mountain Lion). So if the person you want to send a user message is not Apple's platform will be sent as a normal SMS rate payable under our operator.
Skype, an alternative that also allows us to make VoIP calls
Skype is an application or rather a service that has a pretty big career. It takes years available for computers and also have long made the leap to mobile devices.
Born as an application to make calls via VoIP, but for some time has other possibilities such as video calls, instant messages and other functions.
Microsoft bought the application for some time and it seems that the Redmond company wants to be the one that finally finished replacing the Messenger forgotten.
Lots of people have Skype account, but it is important to mention that this application will not be able to find users using book data from our phone. Will need to add them manually, which takes away many points I want immediacy and the ability to send messages to any of your contacts just knowing your phone number.
Another flip side is that some of the features with which Skype features are extra, such as multiparty video call.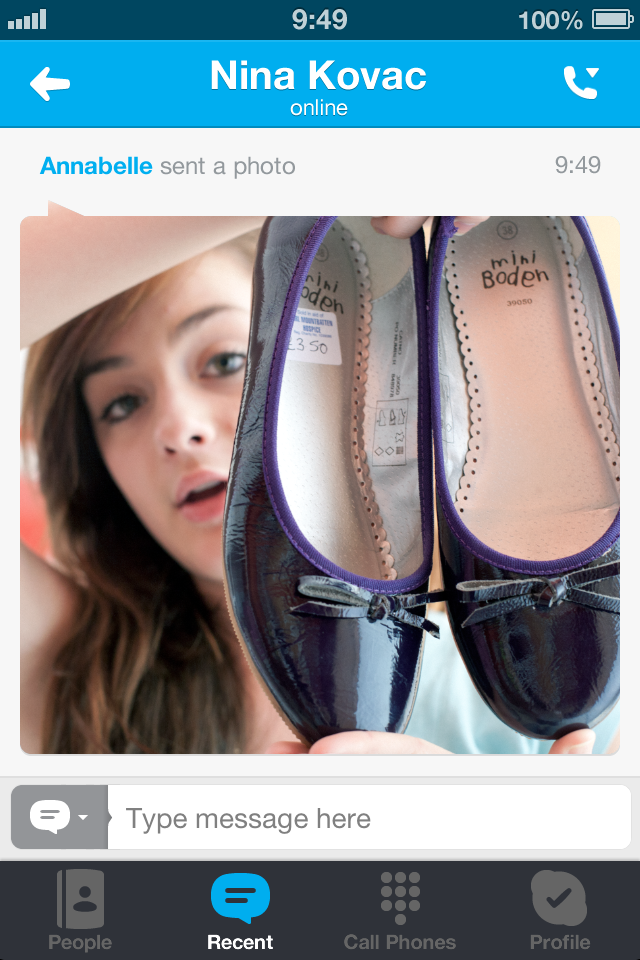 Viber, another option to consider
From all that we have mentioned so far, Viber is perhaps the least known in Spain, but that does not mean that its user base is not large. It currently has about 140 million users and growing at a rate of 400,000 new users a day.
Recently added new features to continue competing. For example, has taken the idea of ​​large emoticons LINE. Moreover, it is a platform that is available for many platforms and as we said earlier its growth is still quite strong.
Which do we stay?
The decision to choose one or the other will depend on each. You'd think that we are left with the most complete and most people utilizasen or perhaps our option may have to go through several of these applications (or all) of our devices.
I personally believe that the logical step would be to stay with the application where they are the majority of our contacts, at least if what we want is that we can easily find that we too can quickly establish contact with anyone from our agenda.
Share this article with your friends on Facebook, Google and Twitter with the buttons you'll find at the beginning of it. Thank you!
Track | Applesfera
Image | Paco Abato
iPadizate , best blog on the Apple iPad.